2017 – March – relais rione ponte – emmeotto living gallery – Rome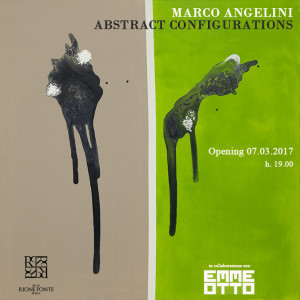 Via Giuseppe Zanardelli 20, Rome
Only by appointment Phone +39 06 93576629 info@relaisrioneponte.com www.relaisrioneponte.com                                                                          

Opening March 7th, h. 7 pm March 8th 2017 > June 26th 2017
Relais Rione Ponte, in collaboration with Emmeotto gallery, is pleased to announce the exhibition project by the artist Marco Angelini titled Abstract Configurations.
The research of Marco Angelini begins from matter, an essential element of endless possibilities where chromatic surface, thanks to the combination of shapes and colors, becomes the connective tissue of heterogeneous modes of expression: the ultimate goal of the work is the exemplification of an idea, a thought, a dream.
The artist, in this exhibition, retraces twelve year of his career conducted between New York, Warsaw and Rome, a selection of thirty – eight works, exquisitely furnished in the spaces of the Relais, it will channel the viewer into a chromatic universe that is, in the first instance, an aesthetic audacity connected to painting.
Material and colors are intertwined, space acquires, via the withdrawal method object, a third dimension that catches the eye and it is stated as a logical continuity between figuration and abstraction, the eternal conflict that carries with any explicit representation of the tangible world. "The artwork does not define more as the only comprehensive source of delight for a privileged class, with a special sensitivity, but it is an omnipresence of renewable plastic stimuli, necessary to collective equilibrium". In Vasarely's words we find a centuries-old idea: the shape is an element of an hidden reality, a stronger visible appearance. Angelini's works fit on the heels of the avanguard that is no longer exclusively the preserve of abstract art, his research gets its roots into the concept of "pure visibility", an aesthetic vision in which the composition is constructed through the significant forms.
The artist's pictorial itinerary is closely related to the study of society, the seduction of reality breaks into Angelini's paintings through the objects of our everyday life, whose original function is transformed distorting the meaning and spouting a cognitive process that it is never an end in itself, but which manifests itself as a cornerstone of an intellectual approach.
The dichotomy between abstraction and figuration is a junction point, which possesses the characteristics of an optical experience on the borders between sociology and aesthetics action. If the ultimate end of art is to query the community, Angelini's work fulfills this task emphasizing the need to circumvent the mere decorative matrix of the picture and let the content has a specific gravity in his quest. "The shape of my painting is the content," the statement by Ellsworth Kelly is as timely as ever, index of how an artwork can create a new point of view, where the visible becomes the intangible existence.
MARCO ANGELINI
ABSTRACT CONFIGURATIONS
Opening 7 marzo ore 19 8 marzo 2017 > 26 giugno 2017
Relais Rione Ponte, in collaborazione con la galleria Emmeotto, è lieta di presentare il progetto espositivo dell'artista Marco Angelini intitolato Abstract Configurations.
La ricerca di Marco Angelini parte dalla materia, fulcro imprescindibile di infinite possibilità compositive la cui superficie cromatica, grazie all'accostamento di forme e colori, diviene il tessuto connettivo di eterogenee modalità espressive: l'obiettivo finale dell'opera è l'esemplificazione di un'idea, di un pensiero, di un sogno.
L'artista ripercorre in questa mostra dodici anni di carriera condotta tra New York, Varsavia e Roma, una selezione di trentotto opere, accuratamente allestite negli spazi del Relais, convoglierà lo spettatore in un universo cromatico che è, in prima istanza, audacia estetica al servizio della pittura.
Materia e colore si intrecciano nelle tele di Angelini, lo spazio acquisisce, attraverso la modalità del prelievo oggettuale, una terza dimensione che cattura lo sguardo e si afferma come continuità logica tra figurazione e astrazione, eterno conflitto che reca in sé ogni esplicita rappresentazione del mondo tangibile.
"L'opera d'arte non si definirà più come l'unica esaustiva fonte di diletto per pochi privilegiati, dotati di una sensibilità speciale, ma come onnipresenza di stimoli plastici sempre rinnovabili, quotidianamente indispensabili all'equilibrio collettivo". Nelle parole di Vasarely ritroviamo un'idea secolare: la forma è una sostanzalizzazione di una realtà nascosta, di un visibile più forte delle apparenze. Le opere di Angelini si inseriscono sulla scia di un'avanguardia che non è più esclusivamente appannaggio dell'astrattismo, la sua ricerca affonda le radici in una visione estetica strettamente connessa al concetto di "pura visibilità" in cui la composizione è costruita attraverso forme significanti.
L'itinerario pittorico dell'artista è strettamente connesso allo studio della società, la seduzione del reale irrompe nelle tele di Angelini attraverso gli oggetti della nostro quotidiano, la cui funzione originaria diviene di volta in volta trasformata stravolgendone il significato e scaturendo un processo cognitivo che non è mai fine a se stesso, ma che si palesa come elemento cardine di un approccio intellettuale veicolo del nostro pensiero dominante.
La dicotomia tra astrazione e figurazione trova, nell'opera dell'artista, un punto di congiunzione, che possiede le caratteristiche di un'esperienza ottica ai confini tra sociologia ed azione estetica. Se il fine ultimo dell'arte è interrogare la collettività, il lavoro di Angelini assolve questo compito valorizzando la necessità di eludere la mera matrice decorativa del quadro e di lasciare che il contenuto abbia un peso specifico nella sua ricerca. "La forma della mia pittura è il contenuto" l'affermazione di Ellsworth Kelly è quanto mai attuale, indice di come un'opera d'arte possa generare un inedito punto di vista, laddove il visibile diviene prolungamento intangibile dell'esistenza.
Testo critico a cura di Alessia CarlinoSI RINGRAZIA PER LA PARTECIPAZIONE ALL'OPENING
Azienda Vinicola Bisol
www.bisol.it
PRESS
http://www.arte.it/calendario-arte/roma/mostra-marco-angelini-abstract-configurations-36571
http://www.rivistasegno.eu/events/abstract-configurations/
http://insideart.eu/2017/03/02/relais-rione-ponte-e-la-galleria-emmeotto-presentano-la-mostra-di-marco-angelini/
http://www.artribune.com/mostre-evento-arte/marco-angelini-abstract-configurations/
Photos